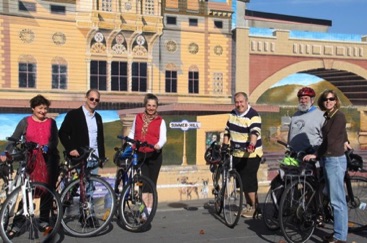 Meetings are held on the second Monday of the month at 7.30pm, Summer Hill Community Centre
131 Smith Street Summer Hill
Contact Leonard Smith
Why not join us (it's FREE) and help make Ashfield a better place for
cyclists?
Ashfield Bicycle  Group is for people who want to see things get better for cyclists in the Ashfield area.
We meet monthly to plan our activities
We run regular rides for people wanting to learn more about getting around the area by bike
We work withThe Inner West Council to improve road facilities and cyclepaths
We work on projects with other local bicycle user groups and Bicycle NSW
We don't receive any government funding
We aren't aligned with any political party
Why not join us and help make Ashfield a better place for cyclists?
Ashfield Bicycle Users Group Inc and its members:
1.Lobby for facilities

2.Put forward a cycling perspective

3.Enjoy life

4.Promote cycling as a healthy activity

5.Have a lot of fun on two wheels

6.Are friendly and understanding